Wedding in the garden: Aron and Sara's "yes" between polka dots and romanticism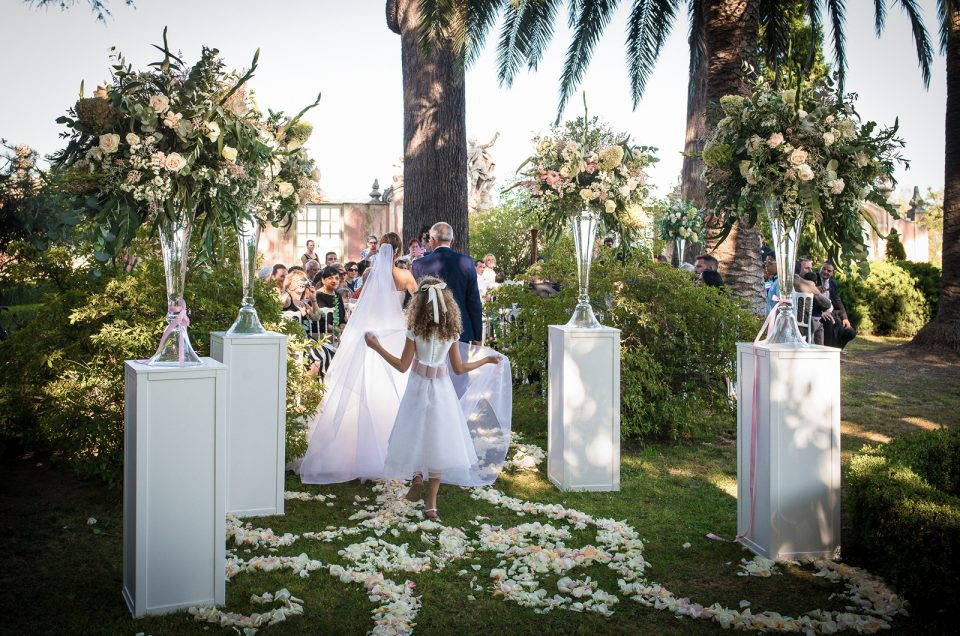 A light summer breeze, ancient trees, a touch of peach pink and a few polka dots here and there.
A perfect mix for a wonderful wedding in the garden, like those of Aron and Sara.
Wedding in the garden: love triumphs at Villa Faraggiana
Right from the start, the couple had clear ideas about what their wedding should be like.
A civil ceremony, very symbolic and not cold at all. And so it was!
On 26 August 2016, Aron and Sara said "yes, I do" in the Villa Faraggiana in Albissola Marina, in the province of Savona. An eighteenth-century residence with a large green space, ideal for a wedding in the garden.
The rite of light to the sound of the harp
In her romantic white dress with a few shades of antique pink, Sara crossed the green lawn on a carpet of rose petals that recreated an arabesque design.
For their wedding in the garden, the couple chose the rite of light. Each with their own candle have
lit a candle, symbol of their life together, with the sweet sound of a harp in the background.
Wedding in the garden: a delicate and witty setting
The same shade of pink that enveloped Sara's dress characterized the details of the set-up
together with the peach color. However, there was no lack of gritty details: from touches of gold to fabrics with sequins,
passing through the polka dots, which are the masters in the menu and placeholder.
And the celebrations? Photobooth complete with props, the tree of thoughts he helped create
a family and romantic atmosphere. And finally, the cutting of the cake between sparkles, petals and even a tree
bright.
Last but not least, the logo designed specifically for Aron and Sara. Their initials combined with the symbol number
of the couple, 13, which was symbolically repeated even in the flavors of the confetti.